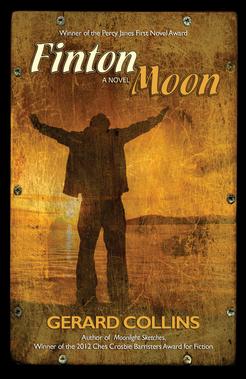 THE HUSH SISTERS
Sissy and Ava Hush are estranged, middle-aged sisters with little in common beyond their upbringing in a peculiar manor in downtown St. John's.
With both parents now dead, the siblings must decide what to do with the old house they've inherited. Despite their individual loneliness, neither is willing to change or cede to the other's intentions. As the sisters discover the house's dark secrets, the spirits of the past awaken, and strange events envelop them. The Hush sisters must either face these sinister forces together or be forever
ripped apart.

In The Hush Sisters, Gerard Collins weaves psychological suspense with elements of the fantastic to craft a contemporary urban Gothic that will keep readers spellbound until the novel whispers its startling secrets.
Gerard Collins' novel The Hush Sisters is classic Atlantic Gothic, with a few more sub genres thrown in for good measure. I used to live very near to where the book is set. Cold shivers. But the whole city of St. John's is brought creepily to life. The unhushable Hush Sisters will keep you up at night—just leave the lights on. Wicked and clever.

Wayne Johnston, author of First Snow, Last Light and The Colony of Unrequited Dreams
Once it gets inside your head, there's nothing quiet about Gerard Collins' The Hush Sisters. It unsettles, it whispers, it lurks. It demands your attention, and you're left with an impossible choice: to keep reading until the darkening drama is solved, or to savour it slowly and risk staying caught among the ghosts. Deft suspense, taut writing, and a plot that grabs you and won't let go; it drags you through one corner of a St. John's neighbourhood and shows how much of a house is really just its façade. Once you start, you're going into the walls. And that's just the beginning."

Russell Wangersky, author of Walt and Whirl Away
FINTON MOON
​​Finton Moon is an unusual child who feels like an alien.
A gentle soul growing up in the rough town of Darwin, Newfoundland, he lives with his strict Catholic mother and grandmother, lawless father and three older brothers. While his grandmother has him "right ready for the seminary," Finton's interest lies in books, nature and solitude. He is secretly in love with the unattainable Mary Connelly, while eschewing the attention of the equally misfit Alicia Dredge, who adores him from afar. In Finton's life, there are monsters everywhere—including Bridie Battenhatch, the crone next door who harbours secrets about the Moon family she will share in exchange for the boy's company—while all his heroes come from books and TV.

But Finton's parents quickly discover that he is extraordinary—for he has been born with the ability to heal with his hands. As he grows older, his miraculous talent becomes more apparent and useful, even as it isolates him further from those around him. While Finton Moon wants nothing more than to belong, he lives in a world that sees him as other, and his greatest fear is that he will be trapped forever with these people who both misunderstand and abuse him.
Finton Moon reminded me of great novels like David Copperfield, Of Human Bondage, Sons and Lovers, Jane Eyre, and Catcher in the Rye. And Gerard Collins deserves much credit for exploring ideas common to these works within the Newfoundland and Labrador milieu.

Darrell Squires, The Western Star
This coming-of-age novel contains magical opening chapters and some memorable scenes and ideas. The sense of place and the characters' internal torment are convincing.

2014 Heritage & History Jury
MOONLIGHT SKETCHES
Welcome to Darwin, Newfoundland, a small town with big secrets.
On the surface, nothing ever changes and everyone is content. But the truth is as restless, cold, and mutable as the ocean in these sixteen linked short stories. In Darwin, people's secrets are hidden and their fears are buried. But night after night, the moon bears quiet witness to their brightest moments and darkest days.

A Catholic girl finds herself pregnant and feels hopelessly trapped. An elderly couple fears the end of their happy, quiet life when their money sock goes missing. Two lesbians walk into the wrong bar on a Saturday night. A young teacher must rescue a student from her wicked father. A wild youth seeks to rectify his life, but first takes his bookish friend on one last heist.

In Moonlight Sketches, Gerard Collins portrays a land of shadows, beyond the overpass, where cruelty and hope gnaw at your peace of mind as the brine patiently devours a wharf. With his trademark dark humour and a nod to the unknown, the author shines a light on the difficulty of being human and yet somehow surviving with grace, dignity, and a modicum of happiness.
It is tempting to say Moonlight Sketches is for anyone who enjoys Newfoundland and Labrador literature, but it is for anyone who enjoys good books, period. The town of Darwin and its inhabitants are as unique to our province, but their stories and voices are filled with a familiar universality that will appeal to serious readers everywhere regardless of their location or background.

Anne Barnes, The Independent.ca